Introduction
Let's start with a horrible example. "I have a Model T inherited from a relative and I want to sell it. How much is it worth?" Believe it or not, that question is occasionally posted on Model T forums. It may sometimes state the year of the car, but is otherwise so vague as to be meaningless. The first thing you need to do if you don't know about what you're selling, is to find out what it is. That's a whole other subject. Once you know what you have, you're ready to sell it and that's what this page is here for...

Gather information...
To sell any collector car, it helps to provide as much information as possible. This is especially true for a Model T. This most plentiful of antique cars has a large following of folks who know it well, and if they're shopping for a T they want to see what features yours has. It's good to provide a list, but better to add pictures. That's pictures. Plural. Not a picture. With today's digital photography, a dozen or more photos don't cost any more than one, so you might as well do the job right. This should be obvious, but take pictures of the car, not pictures of old pictures. Some cameras will let you show the date of a picture in the picture.

Goods well presented are half sold...
Before you start taking pictures consider the setting. The idea is to show the car, so if it's in a dark place and/or hidden by stuff stacked on it, fix that. Obviously the first thing is to uncover your subject. Once you have it uncluttered, consider the lighting. If the car isn't movable and you have to shoot your pictures indoors, you want adequate lighting. It's better to have several light sources and avoid using a camera flash, which often produces a picture with a lot of glare. Many times a flash also lights part of the picture too much and leaves part of it too dark. Using available light, if it's bright enough, is often better than flash. The only problem with using available light is that camera movement can give you blurry pictures, so you want the camera on a tripod or other solid object. If the vehicle can be moved, avoid shooting indoors. Roll it outside where it can easily be viewed from all sides. The ideal time to do this is in daylight on a slightly overcast day to soften dark shadows.

"When you take pictures, remove your teddy bears and grandma's quilt from the back seat. Take 3 minutes to blow the worst of the dust off the body and the engine. And most of all, We don't care how your car looks with you (or 1/2 nude women) standing in front of it."

You should include overall views of the car and also provide a closer look at various features. A nice angled picture like this one is great to attract buyer attention.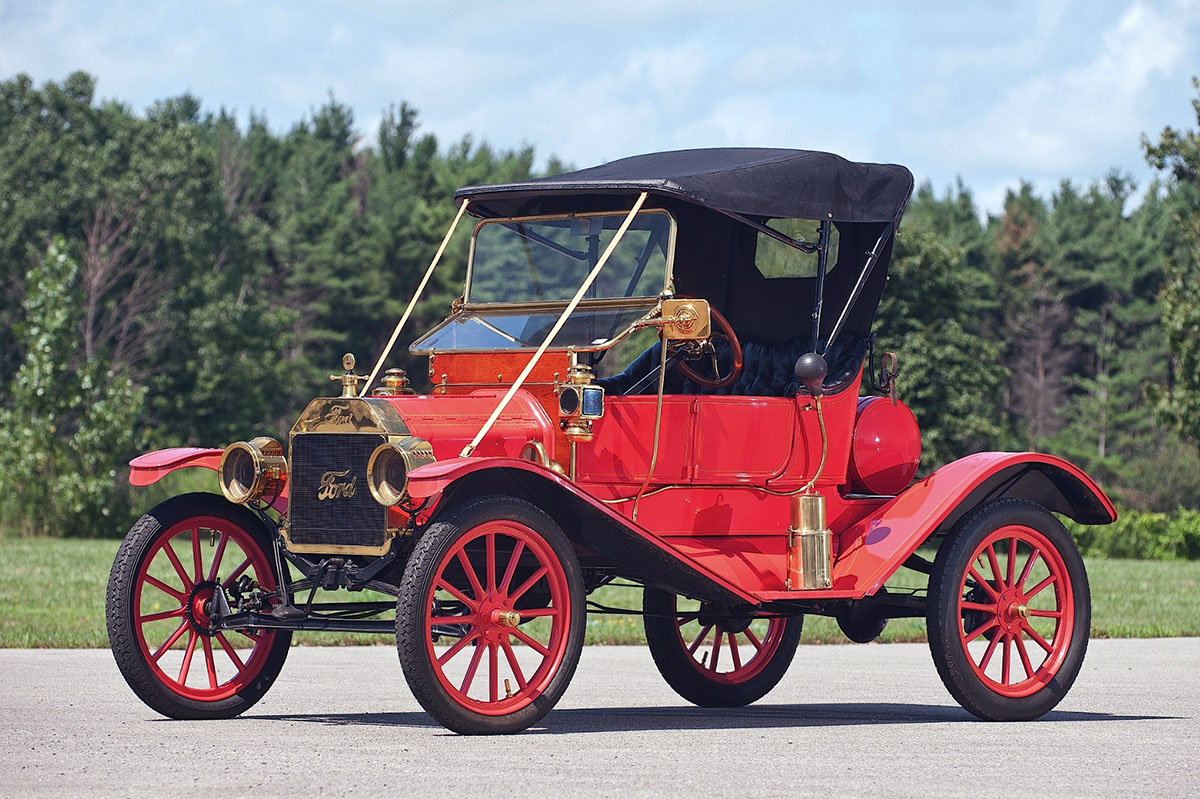 Overall views should show the vehicle but be close enough not to waste space on the surroundings. You should have at least eight views. Those will be straight-on shots from the front, back, and both sides, and from all four corners.
Also consider taking pictured under the hood, the undercarriage and also the interior. The old marketing adage applies: The more you tell, the more you sell. - People can't buy what they can't see!

Show as much detail as possible...
Move in closer to show various features. For a Model T this should include front axle and springs, rear axle and springs, a wheel (each of the wheels if they're not all the same), radiator and shell, engine compartment from both sides, front interior, rear interior, dash and controls. Those should be the bare minimum. Again, extra digital shots are free. So you can add close-ups of desirable accessories and other parts and features.

What kind of camera? Phone cameras in many cases are just as good if not better than some 'professional' cameras, especially from reputable brands such as Apple or Samsung.
When you post your pictures online, you can make a copy to resize and keep the full size original for future use. When you resize the copy, make it small enough to fit on a computer screen, but not too small to show details. Some websites have a limit on the file size of pictures you can post, and you'll have to shrink copies of your photos to be under their limit.
Sometimes, especially shooting close-ups, you may get a picture out of focus or otherwise poor. It may be hard to see this kind of problem on a tiny camera or phone screen, so it's best to look at your pictures on a larger screen to see if they're good enough to use. If they're not, shoot better ones.
The more you tell, the more you sell...
Along with your good pictures, you need to give information. The more the better. A lot of potential buyers will want to know the following:

| | |
| --- | --- |
| | What is it? Identify the car: Year; Body |
| | Condition: Engine; Body; Paint; Top (if an open car); Upholstery; Tires (if near new) |
| | Special considerations/desirable features: Floating Hubs, Ruxtell, Accessory brakes, horn, speedometer, all add value. |
| | Engine/serial number. Are there body numbers? |
| | If you know the vehicle's history tell about it. Is it a 1 or 2 owner car? Did it spend the last x number of years in clean storage? Has it been driven on a regular basis? Was the engine rebuilt? If so, when and by whom? Any other interesting history you can add may help. |
| | Does it run ? Does it turn over ? Does it run well on both battery and magneto? Can you start it by hand on MAG? |
| | Do you have a clear title for it? |
| | Where is the car located? Is it on your property? In storage across town? In a different City, or State? |
| | Ask a realistic price, based on demand, condition, and what current market trends are doing for similar vehicles. This means you may need to do some research. Don't just go by what people are asking for similar vehicles. Consider what people are actually paying for them when they sell. Some places to look: |
Do your homework...
Ask a realistic price, based on demand, condition, and what current market trends are doing for similar vehicles. This means you may need to do some research. Don't just go by what people are asking for similar vehicles.
Consider what people are actually paying for them when they sell. Some places to look:
Ebay is especially handy for seeing the current price trends. Do an "Advanced Search" for your year/model. Specify for the search to include "Sold listings" and "Closed Listings". You'll be able to see what recent cars sold for, and also those that were listed but did not sell. That's your "current market value." Of course, every car is different, as are the perceptions of the bidder/buyer.

Be realistic when pricing. Unique models with total rebuilds completed within a very few years since a restore might bring top dollar. Average or lesser quality cars are another matter. Some time, study and consultation with experienced people can help here.

Generally speaking if you are willing to wait for the price you want you are much more likely to get it. On the other hand if you don?t know what you want you might pass by a quality offer.

More places to advertise
Where to advertise: Local and Regional Model T Clubs, Local and Regional antique car clubs.

Provide good contact information.



Be available to answer questions or additional photos.

Have a quick and easy way to share more pictures with people who respond, perhaps a prepared email with attachments or maybe a link to a Google Drive or Dropbox.



Organize your responses, at some point you might want to accept an earlier offer. Don?t lose track of who offered what price.



The more you know about the car the more trust the buyer can place in your description of the condition of the car.



If this all sounds too difficult, hire someone to help who knows what they're doing and will help you get the most for your car.