My car is a 1925 Ford Model T Open Tourer, built at Henry Ford's Highland Park Plant, in Detroit, Michigan, USA. It never strayed far from the factory, its previous home, Ann Arbor, Michigan, just 60km away. From new, it's had just three owners, myself being the third.

I've had a passion for vintage and veteran cars ever since I was a little tacker, and I always had a dream that, some day, I might have one of my own.

It all started in 1994, at age 7, while living in Albany, WA, where the former Extravaganza motor museum; once home to one of the most famous veteran cars in history, a 1904 Darracq called ďGenevieveĒ famous for its appearance in the 1953 movie Genevieve. From that point, I was hooked on old cars, and as a boy, built countless models from Lego.

Later in 2009, I was living in Burnie, Tasmania, and even though the "Wonders of Wynyard" motor museum was only a few kilometres away, ironically, I never went there! The museum is home to the equal oldest Ford vehicle in the world - a 1903 Ford Model A.

So I wanted to own a vintage car, and I thought what better car to own than one of the most significant cars in history; the Ford Model T. It was the world's first car to be mass produced on an assembly line. The Model T has the second highest production number of any car in history, with just over 15 million of them built in its 19 year production run, between 1908 and 1927. Itís only been surpassed by the Volkswagen Beetle, with 21 million produced.

My family and I moved to NSW in 2010. In January of 2011, I decided I wanted to buy a Model T. I scoured the Internet, hoping I might be able to buy one in Australia, but none were within my budget, the lowest priced car I found, was $45,000 - that was never going to happen! So I resorted to looking in America, and finally found the car, that would ultimately become my own.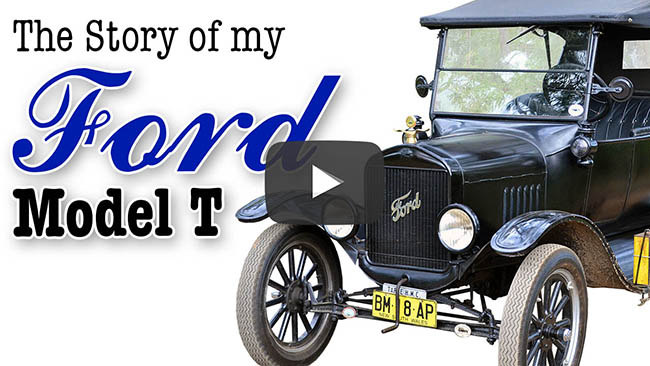 I imported the car, with the help of my father. He imports all kinds of products from overseas, so I have to thank him for his assistance in importing my car. It took 8 months, almost $6,000 in freight charges and import fees, and much anticipation, from when I expressed an interest in the car, to when it actually arrived on Australian soil.

Almost every part on the car is original, with the exception of the seat upholstery, and of course, the tyres. Even the 92 year-old, 20 horsepower engine is original and still running as smoothly as ever.

The car underwent a partial restoration in 1966, and was garaged ever since. I had the roof restored in Taree by a very skilled upholsterer, Graham from Taree Upholsterers. A local tyre fitter, whom to my surprise had antique equipment in the workshop, was able to replace the perished inner-tube on the spare wheel. Iíve replaced the 4 coil boxes, so now the engine runs as it should.

There's obviously no formal training available these days to teach anyone how to drive such a historic museum piece, so I learned via videos on YouTube, uploaded by fellow Model T enthusiasts.

The controls of the Model T are nothing like a modern car. There are three pedals on the floor Ė none of which are the accelerator! Thereís the clutch, the reverse pedal, and the brake. The handbrake lever not only operates the parking brake, it doubles up as the gear lever Ė which is very amusing to modern mechanics when you try and explain it to them! The Model T has just 2 forward gears, plus reverse; and has a top speed of about 70km/h (45mph). Iíve been clocked at 60km/h, but mostly only drive around 40-50km/h.

By the time the car arrived, I felt confident I would be able to drive her, after I got the car started for the first time, my Tin Lizzie performed almost perfectly, although the fuel was running extremely rich at first, which caused her to blow lots of smoke! With some assistance from a fellow Model T owner and friend from Sydney, I soon had the engine running to original spec.

Since the car arrived in August 2011, Iíve had to do little maintenance. The Model T was heralded as one of the most reliable cars in history. However, for safety reasons, Iíve added a set of auxiliary brakes. The reason for this, the original brakes are not attached to the wheels, as with a modern car Ė they are attached to the transmission, and have cotton linings. While I had every faith in the Tís ability to stop, it wouldnít hurt to have an extra insurance policy!
Click any of these
images to enlarge.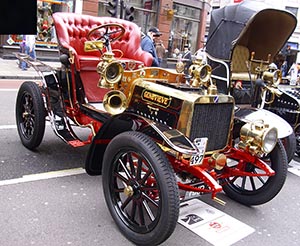 1904 Darracq named "Genevieve" from which my love of old cars was born.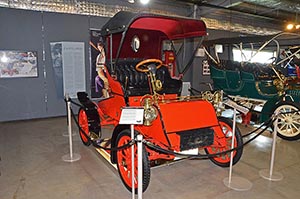 Equal oldest Ford vehicle in the world - 1903 Ford Model A - "Wonders of Wynyard" motor museum, Tasmania.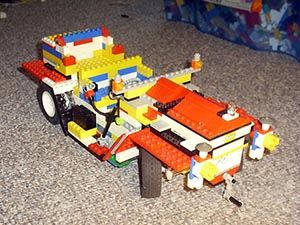 A Lego vintage car I made in 2003,
I was 16.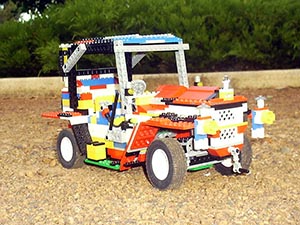 Same car, with roof attached.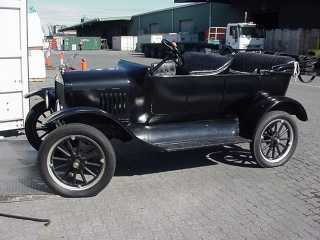 My 1925 Ford Model T, when it arrived in Australia.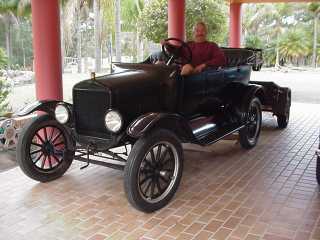 At Newcastle, Australia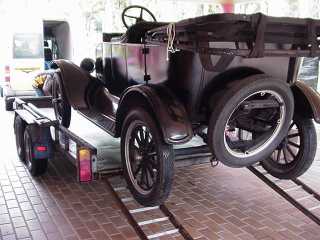 Loading up Lizzie ready to take her home!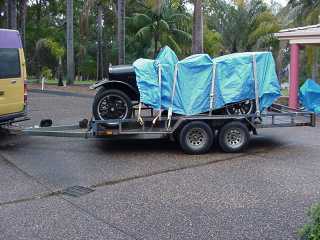 On the trailer ready for the ride home.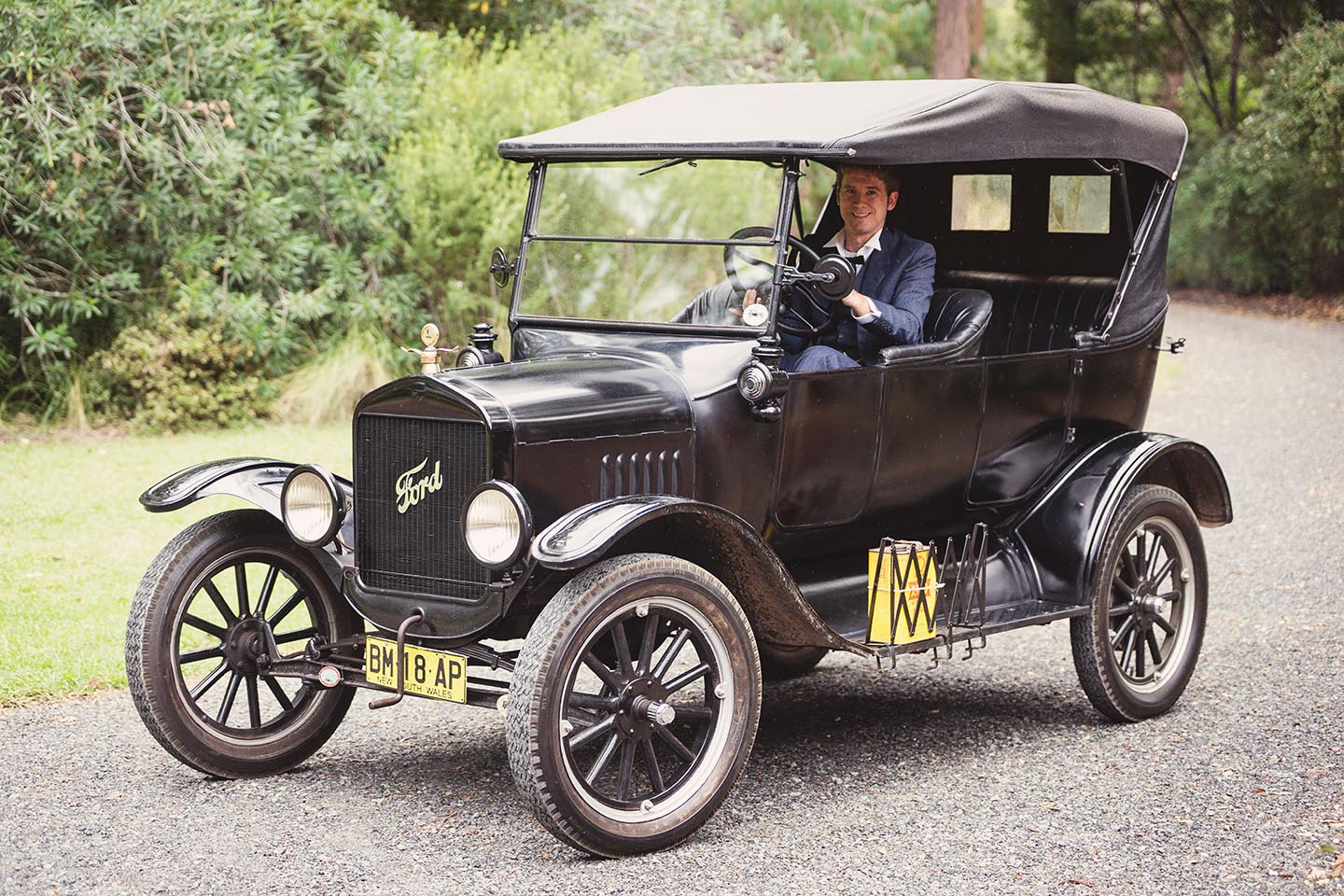 My Model T now :)